Freakling Bros. Horror Shows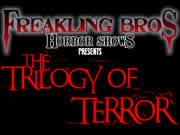 6555 S Riley St
Las Vegas, NV
Details
Average Review

Scare Factor

Very Scary

Appropriate For

No one under 12 admitted

Organization Type

Commercial / For Profit

Listing Categories

More Info

Snacks & Refreshments, Outdoor Event(s), Touching Not Allowed, Free Parking
Established in 1992, Freakling Bros., has been and continues to remain a leader in the haunted attraction industry, with a reputation as "The best in the business" for over 30 years by concentrating on primal fears, relying on the power of live performers, and employing the art of theatrical illusion. Ranked #1 scariest haunt in the country by USA Today and Best of Vegas by Las Vegas Weekly, Freakling Bros. is the real deal. 3 haunted houses, one fortune teller, one price, unlimited trips through the attractions all night long!
COVEN OF 13
Freakling Bros. presents THE COven of 13
In the thick darkness of the witching hour, as night becomes early morning, When most of us are fast sleep, a pack of cloaked, ageless figures gathers and chants. If you listen closely in the night, you will hear them. They speak slowly, softly, deliberately, and with insidious intention.
Their physical bodies are diseased, decrepit, and rotten, but when the Old Hag summons the dark spirit, and the High Priest channels the ferocity of its essence, they are empowered, and they are fierce. These are the dark witches of 13, born of sepsis and poison: You have been invited to make their coven complete. They call to you and welcome you in, to be vetted, initiated, and even reborn as one of them. Do you dare try to make the cut?
Freakling Bros. presents The COVEN of 13 – a Horror Show that pushes the boundaries of complete and total immersion while offering a unique, company-trademark take on one of Halloween's oldest and most classic themes: Witches, Warlocks, and Black Magic.
GATES OF HELL:
An Experiment In SERIOUS, UnCOmPrOmIsInG, InTERaCTIvE HOrrOR
Must be 17 unless with a parent or Guardian. Nobody under 12 permitted. Must sign a waiver before entering gates of hell
First, you'll die… many times. Then… it gets WORSE.
In 2011, we unveiled the first ever R-Rated Haunted attraction in the state of Nevada. It was an unprecedented gamble based on one simple theory: that our adult audience was ready for something more. Thanks to our amazing and loyal patrons, what we had initially built for a niche' audience surprised us by becoming a mainstream success. The Gates of Hell is now a nationwide haunt industry phenomenon. Over the years we've changed rooms to keep our patrons guessing, but the fear factor has remained the same. If you've never been, now's your chance. If you've been before, now is your chance to relive it, and see if your friends can make it through with you. After all, misery loves company.
Still the ONE and ONLY R-Rated Haunted House in the state of Nevada, don't miss what everyone is talking about: A look at "the darker side of Freakling Bros". The Gates of Hell is a sadistic experiment in absolute sensory overload. You won't be a spectator. Prepare for heart pounding, claustrophobic terror; face the reality of your own violent death… and finally, experience a slow and painful descent into cold, black nothingness to meet Lucifer himself.
Do you have what it takes? We don't think so.
CASTLE VAMPYRE
More than any of our creations, Castle Vampyre represents all things classic Freakling. The tradition began decades ago when Duke Mollner (aka Dukula) first donned the Dracula cape, and it reached a zenith in 2004, when Nosferatu asked if we would partner with him to construct his October residence in Las Vegas, NV.
The Castle has always been a fan favorite. It's terror level is still high, as with all of our shows, but it's FUN, illusory terror, rather than "I'm traumatized for life" terror. This enjoyability has helped make it our most repeated attraction, and most popular with all ages....
A master stroke of horror and illusion, deep within the walls of this fortress beats the heart of pure, unadulterated EVIL. Blood flows freely and is guzzled nightly within the Castle walls.
You can feel it.... You can hear it... But is it really happening? Is there any way out? They say seeing is believing. You decide.
The acclaimed Castle Vampyre returns for an ENCORE SEASON of performances after nearly shuttering in 2019. Come take a tour in 2021. It might be your last chance!
Hours of Operation:
BOX OFFICE and PARK open at 7pm, Horror Show doors open at 7:30pm BOX OFFICE closes at 11pm Sunday through thurs, 12 midnight Friday Saturday. From the 22nd through the 30th, Box Office will be open till midnight every night. On Halloween it won't close until you stop coming! *Haunt lines will be cut off 45 minutes after box office closes (except Halloween)
COVID-19
| | |
| --- | --- |
| | Some locations may have last minute updates due to changing circumstances. Please visit the attraction's website and/or social media before going to double-check that they are open. |
All photos and videos within this listing are the property of Freakling Bros. Horror Shows
Email Verified

Well Worth

One of the best haunted houses visited this season. Characters were very creepy. The every minute we spent there was really terrifying. The spider room and the scarecrow room was very frightening. Music played there was very awesome. Lots of animatronics too… The line to the house was very long. But the visit was worth the wait. The arrangements clearly show how much hard work they put to amaze the visitors. The house suits for all ages too.

| | |
| --- | --- |
| Scare Factor: | |
| Fun Factor: | |
| Haunt Value: | |

Posted November 2017

The Scariest of All

We just loved this place. My wife who is a haunt lover forced me to this place and I just loved it. The set up was awesome and so different from other usual haunt houses. As we had arrived early, we got enough time to do all the three haunted attractions but the Vampire Walk was the scariest for both of us. They gave me real jumps and I actually screamed for the first time in my life. The Gates of Hell was also good and creepy. A very good haunted house I have ever been to! I am sure to come back again and I am thankful to my wife who actually took me here.

| | |
| --- | --- |
| Scare Factor: | |
| Fun Factor: | |
| Haunt Value: | |

Posted November 2017

Email Verified

A Haunted Place of Horror

I had never thought and expected that the Trilogy of Terror would turn in to the nightmare of my life. This house is so scary and haunted that I kept screaming the entire time. All the three attractions were damn scary. The actors were as scary as monsters, ghosts or what I don't know. An old woman draped in white costume and creepy face pack was the deadliest of all. I thought I would faint that minute. But I must say that the actors and the staff are super friendly and they never let you go blind in the haunts. They entertain you, interact and keep you relaxed and at fun. Overall, it was full of entertainment and horror. I will surely recommend this place.

| | |
| --- | --- |
| Scare Factor: | |
| Fun Factor: | |
| Haunt Value: | |

Posted November 2017

Email Verified

Amazing Haunt

Amazing haunted place. All the attractions are uniquely designed and excellently constructed. I along with my wife visited this haunted attraction yesterday and both of us had a blast! Very innovative haunted house and all acts performed by actors were amazing and tons of scare were available at every corner of the room. All attractions were damn scary, but we liked the Gates of Hell as it's truly portrays the horror in the real spirit. Lovely special effects and affordable ticket pricing. Love to visit again. Highly recommended!!

| | |
| --- | --- |
| Scare Factor: | |
| Fun Factor: | |
| Haunt Value: | |

Posted November 2017

Email Verified

A Wonderful Time

Had an awesome time at the Trilogy of Terror! It was a fun time we had. As we arrived early, the queue was much long and it made easy for me and kids to move in quickly. The haunted house was so scary and full of terror and scares awaited us. My kids did enjoy it. We enjoyed the most was the Gates of Hell which was scary as hell and we enjoyed screaming and running all the way. I am sure to return with kids and friends again.

| | |
| --- | --- |
| Scare Factor: | |
| Fun Factor: | |
| Haunt Value: | |

Posted November 2017

Loved The Experience

An evening to remember. We visited this haunt with a group of four and we've purchased the freak pass for $39 to get into all three attractions. Initially, the queue was long but thanks to entertainers for warding off the boredom of us while standing in the queue. Gates of Hell was the scariest and dangerous. Amazing display of horror, I would say a kind of real interactive one and all actors did a fantastic job in scaring us. Application of special effects and lightning was excellent. Loved it! Will surely visit again next year.

| | |
| --- | --- |
| Scare Factor: | |
| Fun Factor: | |
| Haunt Value: | |

Posted November 2017

Email Verified

Horror Entertainment

Never been to an attraction which can match the quality of haunts similar to Trilogy of Terror. Very true to its name, as it in-houses three attractions and all were damn scary. We went in a group of six and purchased the general admission tickets and it's not a prudent decision. Spent around three hours in the queue to get into the houses, but wait was worth. All actors were great and didn't missed a moment to scare us. We screamed, banged, yelled, shouted, jumped and laughed. It was a completed package of entertainment and horror. Definitely worth spending money and time!!

| | |
| --- | --- |
| Scare Factor: | |
| Fun Factor: | |
| Haunt Value: | |

Posted November 2017

A Scary Night

Oh my god what an amazing haunted place to go and get scared! Especially a haunt lover like me would fall in love with this place. The Coven of 13 was as scary as the Gates of Hell and the Castle Vampire. But I will admit that the Gates of Hell was the scariest of them all. No one would realize that they are actors in disguise of ghosts. They looked so real and creepy. The special effects and the lighting done were amazing. I am sure to come back again next season.

| | |
| --- | --- |
| Scare Factor: | |
| Fun Factor: | |
| Haunt Value: | |

Posted November 2017

Nice Experience

The scares in Freakling Bros haunt were well organised. The Castle Vampire was a different attraction altogether. The lines were long..but there were characters who entertained us while waiting the line..it was a nice experience. The Coven of 13 has a part that we must crawl through the floor. But we skipped that part. There was a plenty of unexpected scares… The sets of the house resembled to one Hollywood movie location. Excellent special effects, decors and props too… My favourite was the Vampire of Castle. We will be back next season.

| | |
| --- | --- |
| Scare Factor: | |
| Fun Factor: | |
| Haunt Value: | |

Posted November 2017

Email Verified

Unique Theme

Very Scary. Nice job! All the attractions are uniquely themed which makes it interesting. Suspense is created from the very beginning itself. Actors' makeup is top notch, so is the sound system. Castle Vampyre and Coven of 13 had me scream numerous times. I had to check my pulse after coming back!! Highly recommended for people who love horror shows.

| | |
| --- | --- |
| Scare Factor: | |
| Fun Factor: | |
| Haunt Value: | |

Posted November 2017

Excellent House

I with my two cousins and nieces went to Trilogy of Terror. The place was really amazing. Excellently constructed houses with a plenty of rooms, filled with spooky characters. I haven't experienced a haunted attraction like this. We were chased by the crazy old woman flying down by the hall way of coven. My niece screamed out loud as she got close. Duke was a terrifying character we faced there. The scariest part was the Coven of 13. The Gates of Hell was equally terrifying. Experiences in the Gates of Hell were really spine chilling. The witch walk through could scare the shit out of you. Recommend this.

| | |
| --- | --- |
| Scare Factor: | |
| Fun Factor: | |
| Haunt Value: | |

Posted November 2017

Email Verified

Freaked Out

We are regular customers for Freakling Bros haunt. This is third time in a row we went to their horror shows and we love every bit of what they are offering. Among all the attractions I liked the Coven of 13 – it was something unique. Gates of Hell was the scariest I ever seen. Awesome actors and actresses. The Witches, Warlocks, and Black Magic were hands down the best in the area.

| | |
| --- | --- |
| Scare Factor: | |
| Fun Factor: | |
| Haunt Value: | |

Posted October 2017
Freakling Bros. Horror Shows
All information on this page was submitted to Nevada Haunted Houses and was believed to be accurate at the time it was posted. Please report any inaccuracies
here
.